A really popular option that a lot of people opt for is a adding a new stock to their AR15 rifle. A buttstock will make shooting your gun a lot more comfortable and your accuracy will also improve. Not to mention that a it makes your gun look really sweet and adds some flare to your gun.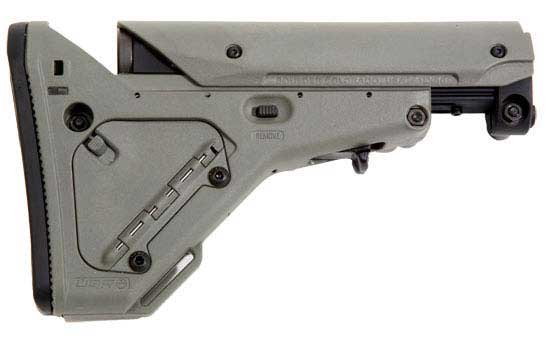 There is a huge assortment of buttstocks available for the AR15 rifle. From traditional styled rifle to collapsible "carbine style", the user has a plethora of choices when it comes to attaching a buttstock. The typical price range will be anywhere from $50 for the cheaper ones and all the way up to $500 for the latest and greatest.
There are two basic stock designs for the AR-15 rifle, fixed and collapsible. The collapsible is designed to make the rifle more compact for storage, but also allows the shooter to adjust the length of pull in short increments.
Buttstock Comparison Chart
Top 3 AR-15 Stocks for Sale
Below you will see the best three stocks currently on the market and they are reviewed so that you can find the one that fits exactly what you want. These are 100% unbiased reviews and our only intent is to help you find exactly what you are looking for. We know that it can be hard to find solid reviews and that is what we are here for. So keep reading below to find the perfect fit for you.
ACE was an early innovator with regard to buttstock development on the M4 platform. The company was first known as Stock Options and came to prominence manufacturing replacement buttstocks for imported AK-47 style rifles between 1989 and 1994 to make them compliant with the various importation bans on semi automatic rifles.
Ace's first buttstock for the AR15 was a skeletonized fixed stock made from aluminum with a foam cover. The company maintained this principle in its M4 SOCOM model, which is a collapsible that features 4 attachment points to mount a sling and  a stock toe capable of battering down doors or use in CQB (Close Quarter Battle) if needed.  Really a neat piece of work here and SOCOM continues to be an industry leader.
Of all the collapsible stocks on the market, the ACE M4 SOCOM is by far the strongest and built to survive any calamity. An included bolt allows the user to lock it in any position if collapsible stocks are not legal in their area. This is really an awesome feature and it is a great way to bypass some of the laws that may be in your state.
MagPul's UBR (Utility Battle Rifle) stock is a fully adjustable buttstock with the stability of a fixed one which provides a consistent cheek weld in every position. It can be equipped with a strike plate on the toe of the stock as an aid in CQB as well. It also has several attachments to provide versatility in using a sling.
The UBR includes its own buffer tube that is designed to work with the stock. Installation on an existing rifle includes removal of the original buffer tube. It is not really a collapsible buttstock in the traditional sense and the user has the option to lock it in the preferred position if he so chooses.
As an added measure of versatility, the UBR includes a small storage compartment where the shooter can store a small incidental item such as ear plugs, chewing gum or a compact bottle of CLP. Likewise, if the shooter feels the space is too limiting, he can simply remove the compartment and lighten the stock as well as give it a more skeletonized look.
It is not an inexpensive stock, but may be one of the strongest adjustable stocks on the market.
The MagPul PRS (Precision Rifle Stock) is a robust fixed buttstock that is fully adjustable for height of cheek rest and length of pull. It is primarily used by hunters, long-range shooters and snipers who use a precision rifle equipped with a telescopic sight. Like the UBR, it has a variety of attachment points for a sling.
The stock is heavy, but extremely useful on a rifle designed for precision shooting, particularly if a scope is involved. This may not be the right stock for everyone but for the ones that are looking for a sturdy build that comes with great comfort then this is the one for you.
Important to Know – Buffer tubes
When purchasing a PRS stock it should be noted that MagPul makes a variety of milspec(military specification) stocks that it sells under the "Restricted" brand. There is no restriction, but military carbine buffer tubes are sized differently than civilian made ones and the company lists them as such to keep consumers or government contractors from purchasing an incorrect part.
Commercial buffer tubes can vary in size, whereas milspec tubes are set to one standard. In the manufacturing process, commercial tubes are made from extruded aluminum, whereas the military counterpart is forged and sized. On average, military buffer tubes will be smaller, but better made.
Apart from this, the only other thing to be mindful of is buffer tube length. They are either rifle or carbine sized, with the rifle version being longer and having a threaded female end to attach the stock, whereas the carbine version is referred to as a "receiver extension. The PRS attaches to a rifle length buffer tube.
MagPul offers both of the aforementioned stocks in a variety of colors such as black, tan and green and various shades of each. When making a purchase, be mindful that variants of the PRS may be designated "308"; this is a larger version of the AR15 chambered in 308 Winchester. Most of them will be marked as "308" will fit the smaller AR 15, but the reverse is not always true.
Legality of AR-15 Buttstocks
While most of them are not inherently illegal and trade is unrestricted, there are certain states that prohibit the use of certain one models.
The state of California, for example, prohibits folding or collapsible stocks on semiautomatic rifles equipped with a pistol grip and a detachable magazine. Some manufacturers have made "Ban compliant" for states like California which are either fully fixed "look alike" versions or collapsible versions which are permanently pinned to prevent them from being collapsed.
Likewise in California and a few other states, a collapsible buttstock may violate laws on the "overall length" of long guns. According to Federal statutes, a long gun must have a minimum overall length of 26".
Federal agencies such as BATFE (Bureau of Alcohol, Tobacco, Firearms and Explosives) measure this distance with the stock fully extended. Certain states measure this length with the it collapsed. The characteristics of most AR rifles put these firearms into what California considers an Assault Weapon, where the overall length is set at 30".
It is up to the owner of any AR15 rifle to be familiar with all State and local laws in the area where he or she resides. It is really important for someone interested in buying an AR15 or aftermarket parts for their gun to read up on the rules so you don't end up breaking a law.
Conclusion
Hopefully we have provided you with enough information to make a smart buying decision when it comes to buying a new AR-15 stock. We know it can be a hard decision and it is important to know as much as you can before you make a purchase.
If you need any extra AR15 parts or accessories then go visit our page which will help you find the items just for you!